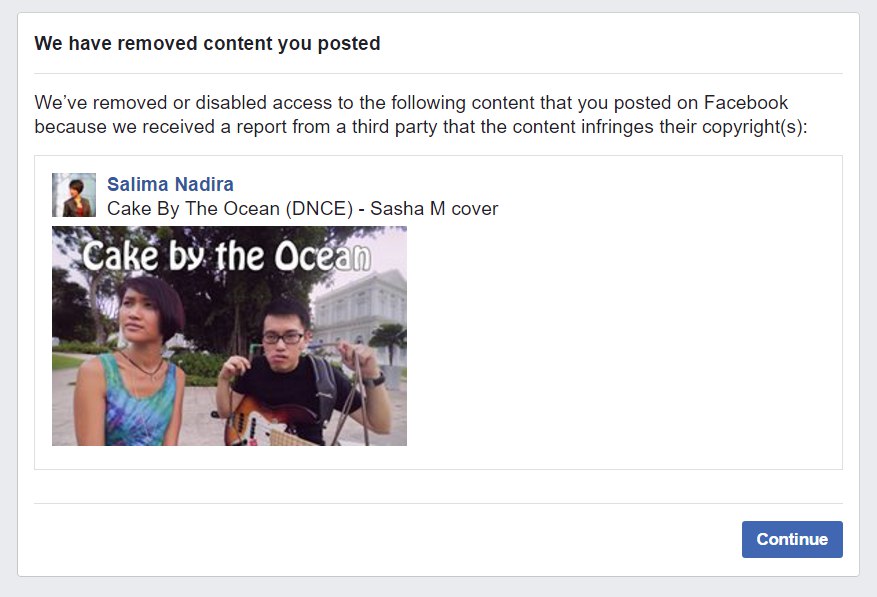 Gamechanger: My second copyright complaint on Facebook
Hey guys, something serious has happened that I want to talk about, which is especially important for anyone posting cover videos on Facebook. I've had my Facebook posting access suspended for three days because a second complaint has been lodged against me for my cover videos.
Some info: there are two ways in which videos with copyrighted content (e.g. all cover videos) may be removed from Facebook. One is if Facebook's algorithm detects the copyrighted content, and immediately disables it. The other is if someone lodges a complaint against your video.
For me, both times my video was removed was due to a complaint. I guess I should be flattered that it means people are watching my videos 🙂
Facebook has many guidelines on copyright, for those who are also creating cover videos and are interested to read more. I suggest you read them carefully, because from what I see checking out other cover artists on Facebook, their cover videos have also been taken down, and it's probably only a matter of time before the copyright complaints get to you too.
What does a suspended account look like for me right now? Let me show you:
As a person who is on Facebook 65% of the time spent online, this is very frustrating for me. So since I can't post or be active at all on Facebook, I've taken to posting more on Instagram Stories and on Twitter. Thank goodness we have more than one social media platform these days, or I might become miserable. (Though, I could have more friends on Twitter. Follow me if you have an account!)
The consequences of me keeping my cover videos up on Facebook is that my account may be disabled, or my Page removed (not sure which page this would be though since the first video that was removed was posted on the SASS page and this second one is from the Sasha M page). In any case, I still use Facebook a lot and so in order to keep my account in good standing, I'll have to remove all my cover videos that are currently uploaded to Facebook.
Now I can choose to be upset about this, or I can choose to take it positively.
As I mentioned in the title, this is a gamechanger. If artists are no longer allowed to post their cover songs on Facebook (and their strict consequences are a pretty effective deterrent), what can we do to let people know about our artistic pursuits?
I guess we could only post our cover videos on YouTube or Vimeo, and link to it on our Facebook pages (that's definitely what I'll do from now). Or… we could take this as a sign to start cranking out our originals >:)
I've got one more cover video in the works, and I'll be focusing on that for now. But once that's done, I'll be looking at ways to produce 100% original content for you guys to watch and listen to. Look out for that…! 🙂