Fire Save Us collaboration showcase – Music, Photography and Writing
Last Saturday, I had the honour of being invited to the FIRE, SAVE US event which is this: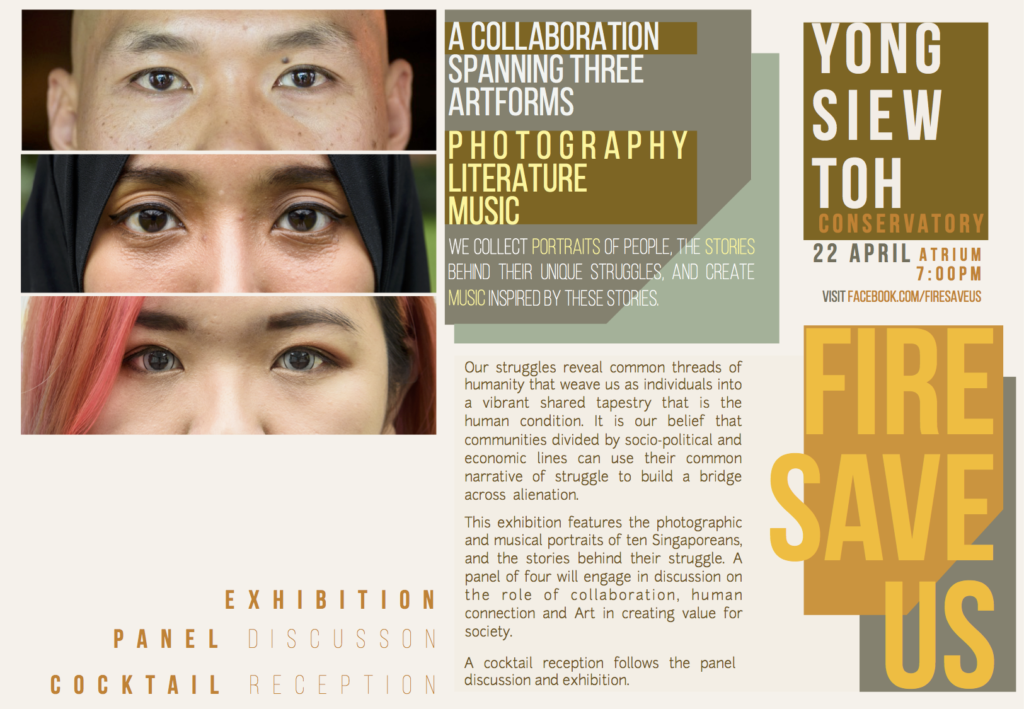 The team behind this initiative did a project which was something like Humans of Singapore, gathering people's stories about their struggles in various aspects of life, then posting them online as a smorgasbord of various human experiences.
At the event, they put up all these stories and photos in a mini exhibition:
They also had a panel discussion with four very cool people, all of whom do different things (music, sketching, animal welfare, and string theory). Very, very different things. And they had wonderful conversations about collaborations (and how various disciplines lend themselves differently to this), contributing to social capital through the pursuit of their passions, transcending politics through their work, dealing with bad press and keeping to your core identity, and many other topics which were very interesting. They also answered audience questions with much insight and maturity. I came away feeling impressed by the panelists' depth of knowledge and maturity of experiences.
They also had a delicious reception. Very worth noting. I enjoyed it tremendously. 😀
After the event, Stasha (organizer) gave us a tour of the Yong Siew Toh music facilities… the school has fantastic facilities. Makes me wonder why I hadn't applied to study at Yong Siew Toh… hahaa
And here are some Instastory snippets of the day~
Okay let's not forget that FIRE, SAVE US is culminating in an EPIC MUSIC ALBUM composed by the mega talented Iliya Zaki, and it is set to hit digital stores pretty soon. PLUS I'll have a track on that album too! Sooo watch out for that!!! 😀